John R.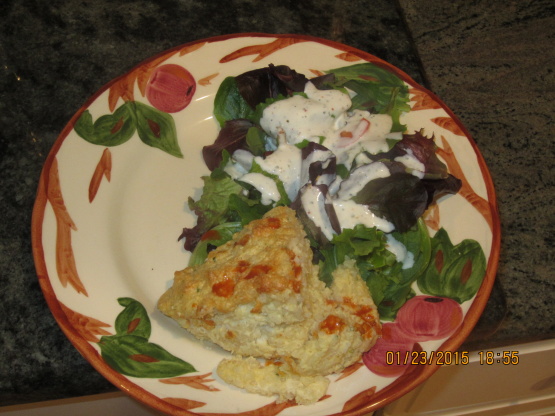 This turned out to be my favorite dish this Christmas! This is not a skimpy rice dish. It puffs up beautifully (and evenly) in your pan and resembles a hearty potato dish. Everyone loved it at our table. It would go just as nicely with a steak dinner, too. This was taken from a church cookbook in Virginia. I doubled it and cooked it in a 9x13 pan.

I just made this today and it came out great. I will for sure make it again next time I need a special dish. Might not make it all the time because there is little more time involved then what I like for a day to day recipe, but it was very good when it was done.
Melt butter in heavy saucepan over low heat.
Add flour, stirring until smooth.
Cook 1 minutes, stirring constantly.
Gradually add milk and cook until mixture is thickened and bubbly.
Add rice and next 6 ingredients.
Stir well and remove from heat to cool completely.
Beat egg yolks at high speed of an electric mixer until thick and lemon colored.
Add egg yolks to rice mixture and stir well.
Beat egg whites (at room temperature) until stiff peaks form.
Fold 1/3 of beaten egg whites into rice mixture.
Gently fold in remaining egg whites.
Spoon rice mixture into an ungreased 1-1/2 quart casserole.
Bake uncovered at 325 degrees for 45 minutes- 1hour or until a knife inserted in center of souffle comes out clean.
Serve immediately.