3 Reviews
The recipe looked elaborate but came out relatively easy and was tasting very different. Almost a complete dish in itself and pretty nutritious too !
Just made this. I was looking for a really unusual side dish using rice. This is fabulous. I found it to be quite a bit of work, but well worth it. It reminds me of tabouli, which I really don't like because of the texture of the wheat. With the rice, it is really really good.

This was very good and simple to make. I added some garlic powder, Italian Seasoning, and Jamaica Me Crazy seasoned pepper to spice it up a bit. It turned out delicious! Thanks for sharing.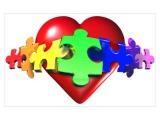 Rice Salad