Rice Pudding (From Raw Rice)
HisPixie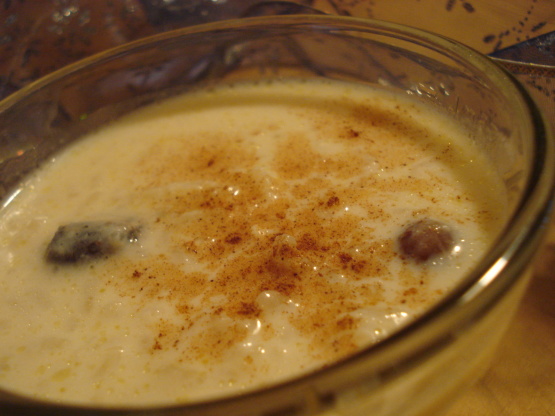 This recipe was given to me by a friend who also has triplets. I made it all the time when my girls were babies and it is delicious. I wanted to add it here so I didn't lose it! Edited on 11/16/08 to say my 19-year-old baby just asked for this today. She has a sore throat and wants some comfort food from her childhood. Awww. Cooking time does not include time to cool.

I have just made this today for the first time. I used 'arborio' rice and it turned out lovely and creamy. Yum.... The only thing I may do differently the next time, and there will deffinitely be a next time, is that I may not add the raisins at the start of the recipe, maybe halfway through it. Something I'll have to play with, and this is my own personal preferences. I found that my raisins were a bit soft and I prefer them firmer. I give this recipe a 5 star. Thanks to all the chefs who helped me figure out which rice would be better for this recipe. You were all a great help. And thank you also ZeeCooks, it's a hit! ~~Fran
Over medium heat, cook the milk, rice, sugar and margarine until it boils.
Simmer 35-45 minutes, covered. Stir occasionally.
Remove from heat (should be soupy). Add vanilla and raisins.
Cover and cool. Sprinkle with cinnamon to serve.
Variation: stir in semi-sweet chocolate chips for chocolate rice pudding.