Prep 10 mins
Cook 1 hr 10 mins
This rice pudding is a perfect sin :P
Directions
In a saucepan, heat milk, heavy cream, rice, sugar, raisins and vanilla.
Stir well. Cover. Bring to a boil and lower the heat. Let simmer for 1 hour.
Let cool many hours.
Whisk 1/2 cup of heavy cream to do whipped cream. Fold it into the rice pudding. Divide into dessert dishes.
Most Helpful
My results with rice pudding recipes in the past has been hit-or-miss, but this was a sure-fire success. I found it was perfectly sweetened (and not overly so). This will be my go-to recipe now! Made for Spring PAC 2013.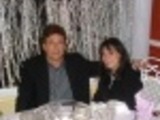 This rice pudding should be illegal, but I'm really glad it isn't. The rice did have some milk left after cooking it, but once you leave it to cool -- the rice plumps up and absorbs the liquid. I have been sneaking a taste as it cools and it is wonderful even before I have to add the whipped cream. Next time I might reduce the sugar to 1/4 or 1/2 cup, but otherwise it is wonderful. Can't decide if I would rather eat it at room temperature, or slightly warm or wait for it to cool completely - decisions, decisions, decisions. Made for ZWT-8.

Yum! Reminds me of a dessert my Nanna made me as a young child as I needed "fattening up". Made for ZWT8, The Fearless Red Dragons