Derf2440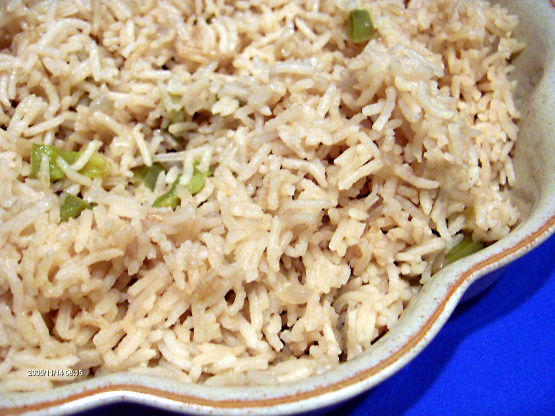 This started out from the joy of cooking. Over time, this is the end result. I use this whenever I need rice. The secret is exact measurments for water and rice.

This was pretty good. I made this last night to go with our fish. My rice was a little sticky but nothing that stopped up from eating it. Thank you for sharing with us.
Melt butter in a 2 qt. saucepan over high heat.
Saute' onion and green pepper until tender crisp.
Add rice; cook for 1 to 2 minutes, stirring frequently.
Add water and chicken bouillon; bring to a boil.
Stir once.
Reduce heat to low.
Stir once.
Cover and cook for 15 minutes.
Don't look!
Remove from heat and uncover.
Let stand for 5 minutes before serving.
Serve hot.