PanNan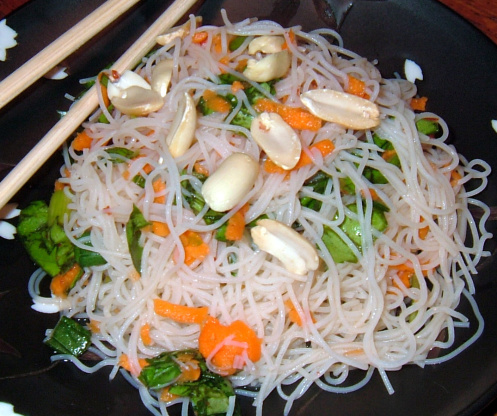 Although I haven't tried this yet I thought it sounded delicious with Asian grilled pork or chicken or mixed with leftover chicken or shrimp. Recipe source: Gourmet (June 2005)

This was good, but we felt it was missing something- maybe some chopped chilies for a touch of heat? For the herbs, I used cilantro, basil, and cress. I had to omit the peanuts, due to a nut issue. I love how easy this was to make, it was very simple to prepare while waiting for the rest of the meal to be ready. Perfect for a weeknight. Made for the Seasoned Sailor and his Sassy Sirens, ZWT6
Soak noodles in hot water for 10 minutes, drain.
Cook noodles in a pot of boiling water for 1 minute.
Drain and rinse under cold water.
Drain again.
Whisk together vinegar, sugar, fish sauce and salt in a large salad bowl until sugar is dissolved.
Add noodles and remainder of ingredients (carrot - peanuts). Toss.