RotiJala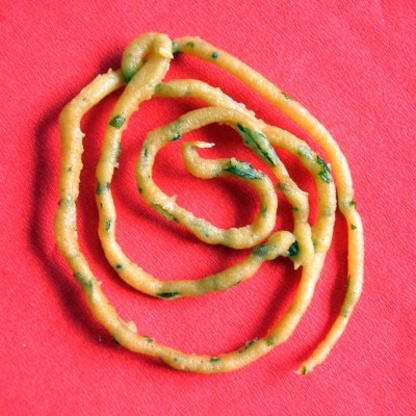 This is a tasty South Indian snack which needs good practice of handwork to make. Once made, it makes a wonderful tea time snack. It is usually made during festivals and weddings.

In malaysia we have a snack which we call Muruku also, I suppose it did come from the indians, and the recipe for it is similar also, however we have this type of mold which we place the murukku mixture in and when we turn the handle of the mold it comes out looking like spaghetti which we drop directly into the hot oil and fry till crispy. It's interesting to see how other people make theirs and I must agree, it's delicious :)
Soak the rice in water for 2 hours.
Fry the dal in a pan without adding oil till brownish in colour.
Make a fine powder out of it.
Grind the rice to a fine paste without adding much water.
(The rice paste should be thick).
In a bowl, add the rice paste, 3 1/2 tsps.
of Urad dal powder, salt and butter and knead well with your hand.
In a clean muslin cloth, keep the mixed rice paste and cover well so that it does not dry up.
Take a lemon sized ball and roll it into a circle by twisting the rice paste simultaneously in the cloth.
About 2-3 concentric circles can be made in a single murukku.
Make about 10-12 at a time before deep frying.
Heat the oil well in a pan.
Add about 5 murukkus at a time and deep fry.
The fried murukkus should be golden in colour.
Store in airtight containers for about a month.
The size of a murukku can go up to 7 concentric circles about 20cm in diameter.