Nimz1466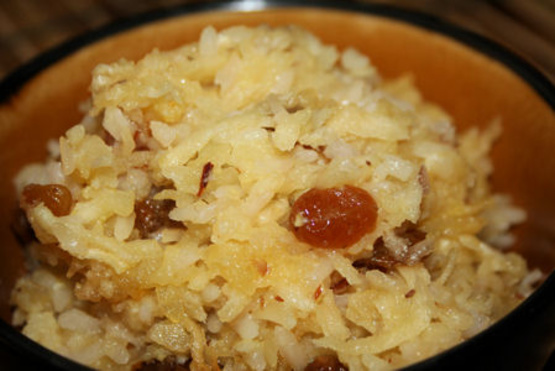 Posted for the Zaar World Tour 2006-Israel. From the "Best of International Cooking" cookbook. I haven't had the chance to try this recipe yet.

I had never heard of a Kugel before and I thought I might give it a try. It was very easy to make and is really yummy. Thank you for sharing
Preheat oven to 350ºF. Butter a deep baking dish; set aside.
Peel and shred apples. In a medium bowl, beat together egg, salt and 1/2 cup sugar. Stir in raisins, shredded apple, rice, 4 Tablespoons of the butter, jam and almonds.
Pour into buttered dish; dot with remaining 2 Tablespoons butter. Sprinkle with 1 Tablespoon sugar. Bake 40 minutes; serve hot.