Pamela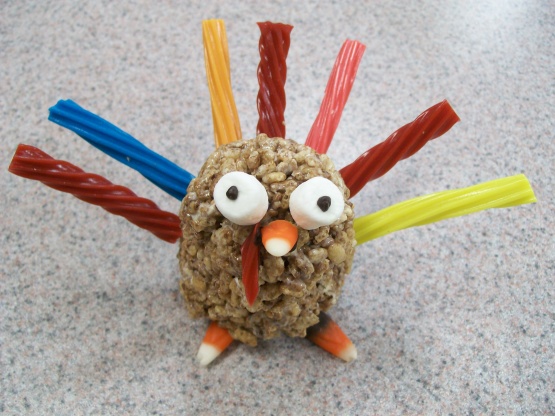 This year I am doing an 'animal' theme for my Wednesday night cooking activities. I thought this would be perfect for fall.

This little turkey is so cool. My kids had fun making them. We only used strawberry Twizzlers for the tail. I love how they look. I think next time we make them, I will use the mixed vanilla and chocolate Rice Krispies for some color variance. Made and Reviewed for Zaar Chef ABC Soup Tag - Thanks! :)
10

ounces miniature marshmallows

6

cups plain Rice Krispies or 6 cups COCOA KRISPIES® cereal
red licorice
fruit licorice
candy corn

1

cup chocolate chips, melted
wooden skewers or toothpick
Follow the Rice Krispies Treats recipe on the cereal box.
Drop heaping spoonfuls of the mixture onto waxed paper and let them sit until they're cool enough to handle.
For each turkey body, create a ball the size of a fist. The heads should be about the size of golf balls. Stick the heads to the bodies. (Coat your hands with butter or cooking spray if the mixture gets too sticky.).
To make feathers, thread licorice onto the skewers or toothpicks. Poke about six into the back of each turkey.
Use the melted chocolate chips as "glue" by pouring the melted chocolate into a ziploc bag and snipping a tiny hole in one corner. Use this to attach the following items: for eyes, use the marshmallows with chocolate for pupils; for the beak and feet, use candy corn; for the wattle under the bird's neck, use licorice. Makes about six to eight turkeys.