Rice Krispie Easter Treats
awalde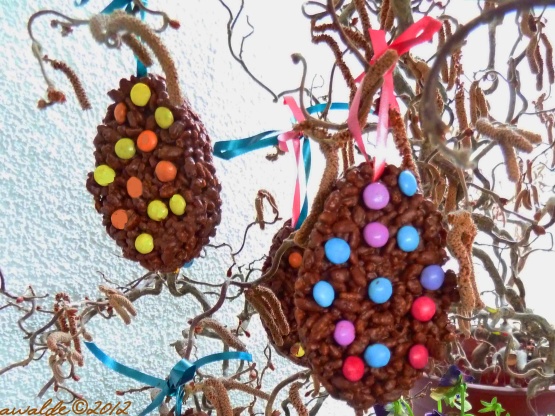 This recipe is quick and easy to make and perfect as a sweet Easter gift. You can make various shapes depending on the cookie cutters you use. I made one large duck from the entire recipe, but if you use smaller cookie cutters youll get a much greater yield. Have fun! I suggest packaging the hardened treats in cellophane baggies and tying them with decorative ribbon for a cute presentation. Note please: These need to chill for 1 1/2 hours.

Top Review by awalde
Hi Loula, your idea is genial!
Now it's really not Easter. I saw this recipe between many others without photo and I found it a great idea.
Having only Christmas molds, I had to find a solution. For those I cut rings of plastic bottles and shaped to eggs with some adhesive tape.
I placed the greased mold on a silicon mat, placed some colorful "smarties" on the bottom, added 1 tablespoon of the crispies mix, two ribbon strips, some crispies mix and finally more smarties. I made 6 big pieces.
After about two hours they were ready to hand on the Eater three!
I allowed my children to try them, they will sure not last until next Easter! Too good!
1⁄4 teaspoon oil (for greasing the cookie cutters) or 1⁄4 teaspoon cooking spray (for greasing the cookie cutters)
assorted cookie cutter

100

g dark chocolate (I used 70%)

60

g crispy brown rice cereal (unsweetened)
mini chocolate candy (like M&M's for decoration if you like)
Lightly grease the insides of the cookie cutters using either oil or cooking spray. Place them on a paper-lined baking sheet.
Melt chocolate over a warm-water bath or in the microwave.
Stir in brown rice crispies.
Spread mixture into cookie cutters pressing down lightly. Decorate your treats with mini chocolate candies if desired.
Allow to harden for 1 1/2 hours. I didnt need to put them into the fridge, but depending onto the climate/weather you might need to do that.
Carefully remove the cookie cutters.