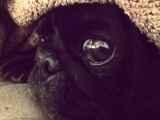 Very easy pancake recipe that is gluten free and good for people that are lactose intolerant My husband is very picky and he really enjoyed. We enjoyed with real maple syrup! Batter is a bit thick, but very filling! I am always looking for recipes using rice flour.
Directions
Mix rice flour, sugar, baking powder and salt in bowl. Beat in milk until mixture has a smooth consistency. Add the beaten egg and oil and mix until just blended.
Add a little oil to griddle and cook on med heat. Turn only once.
Most Helpful
I don't get it. I don't understand the rave reviews of this recipe. I followed the recipe to a T, and ended up with a crepe-like, totally watery batter, even after letting it sit for 20 mins. to allow ample time for the liquid to absorb. The finished pancakes ended up as thin as crepes as well, with a completely un-pancake-like texture. To top it all off, they stuck to my oiled non-stick griddle. I don't think brand should have much to do with the lack of success, but I should mention that I used Bob's Red Mill rice flour, which works well in other recipes.

I don't give up easily, so I decided to do a little experimenting, and embellished another batch. I added 1/2 tsp. vanilla and about 3 tblsp. of Honest Earth creamy mashed potatoes (gluten free, of course - nothing but potatoes, butter, salt), which thickened the batter nicely. What I ended up with was something rather unique and delightful. The texture strongly resembled that of traditional pancakes, albeit slightly heavier. They're a little on the crumbly side, which can be addressed by adding something like guar gum next time. They also had a lovely, slightly crispy outside. The batter can stand up well to additions like fruit chunks or chocolate chips, which sometimes sink to the bottom and burn.

Bottom line: My vanilla and potato embellished recipe was a crowd pleaser, especially with the kids. We all ate fewer pancakes because they're more filling, which meant that we also consumed far less syrup - always a good thing.
I tweaked this recipe , and it is now one of my favorites. Pancakes are fluffy , right consistency , and very tasteful! I used 3/4 cups of rice flour ,1/4 cup of coconut flour. Instead of sugar, I used 6 drops of vanilla stevia. I used Hemp milk , instead of the other milk. I added 1/2 cup blueberries! EXCELLENT!
One of my daycare kids is on a wheat free diet at the moment so I needed something to feed him. I was honestly very nervous about using rice flour and if the kids would even eat it, but this recipe is awesome! They tast so much like my regular pancake recipe that I was thourouhly impressed. However I did make some slight changes as I used regular cow's milkand only had 2/3 cup of rice flour so I used that and halved the rest of the ingredients and they turned out fluffier than the original recipe. Also added some vanilla for some more flavour.