Jubes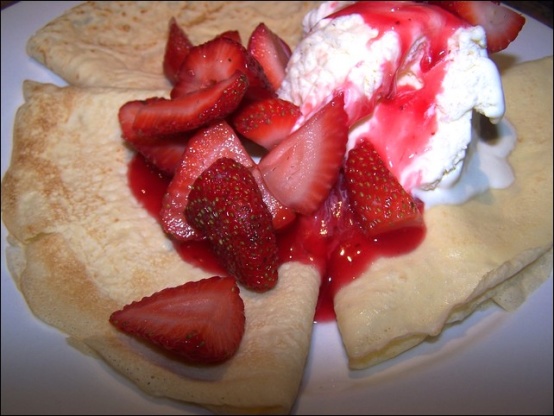 Found this recipe on line while having a late night craving! Tried them the next day - and I was not disapointed! I no longer have to just drool over Nalesniki at family holiday brunches! I just made these (double recipe) and used the crepes as noodles for GF Lasagna - fingers crossed this works!

These turned out very nice. I rarely make GF "breadish" things because I am usually disappointed, but these were tasty. I filled them with caramelized bananas and drizzled with chocolate for a delish dessert. Thanks for posting this, it will stay in my cookbook for frequent repeats.
In a medium sized mixing bowl, beat together all ingredients until smooth.
Pour, using 1/4 cup measure into a medium sized, hot, non-stick (or greased) skillet.
Turn skillet to thinly, evenly distribute batter in a circle.
Cook about 30 seconds per side.
(I only cooked one side, then used filling for Polish Nalesniki #48360 with a pinch of nutmeg and then a touch of cream in pan when baking).