JustJanS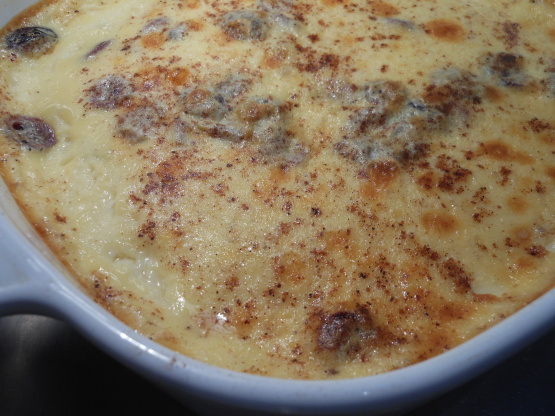 Nice quick easy recipe to make and a great way to use left over boiled/steamed rice. NOTE - I recently broke the dish I normally cook this rice custard in and the one I use now though the same size is deeper with a small surface area and it now takes about 55 minutes to cook through.

Made this for dinner last night and was so pleased at how easy it went together, think I overcooked it (was worried about it being firm) as it was a little dry, but that was my fault and didn't change the taste. I did not use the raisens as I don't care for them, did top with whipped cream. Both DH and I enjoyed it very much. Made for the photo forum - Comfort foods.
Preheat oven to 180 degree Celsius.
Grease a 6 cup oven proof casserole dish.
Place rice in casserole dish.
Beat eggs and sugar together until thick and creamy, slowly add in milk beating continuously, add raisins (if using), then nutmeg. Pour custard over rice and give a stir.
Sprinkle extra nutmeg on top.
Put into oven and cook for 25 to 30 minutes (should have a firm look about it when cooked check not in the intro).
Serve warm with a dollop of thick cream.