Bev I Am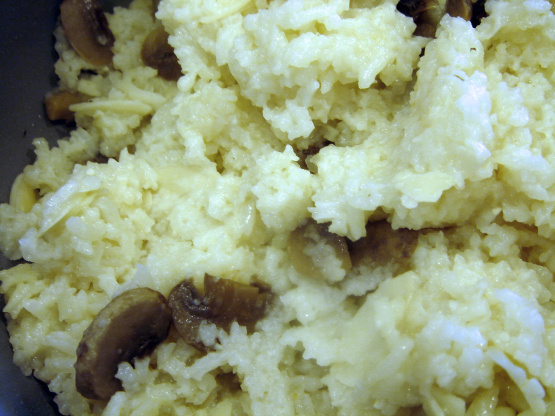 My husband loves this rice pilaf. Everytime I make rice he requests it. Hopefull you'll like it too! It takes a little extra preparation than a rice mix, but I think it's well worth it. You can also use wild rice, instead of white rice, but you'll need to add more liquid and it will take longer to cook.

I've made this at least 5 times now.. what a great easy go to recipe.. with a great taste!! I would have never have thought I could cook rice pilaf in the rice cooker.. but this recipe proves that its most possible. Only thing I changed on the last couple of times is that I added more garlic (we love garlic in this house) .. you cannot go wrong with this recipe!!
In a small frying pan over medium heat, sautee the onion and garlic until onion is translucent. The garlic will cause the onion to scorch a bit, don't worry, it gives it flavor.
Add the rice, sauted onion and garlic, almonds, mushrooms, and chicken broth to a 4 cup capacity or larger rice cooker.
Stir briefly to distribute ingredients.
Set to cook. When done, let sit for 10 minutes.
Stir and enjoy!
Depending on your rice cooker, the bottom may get brown. I like it, it gives it some extra zip!