PetsRus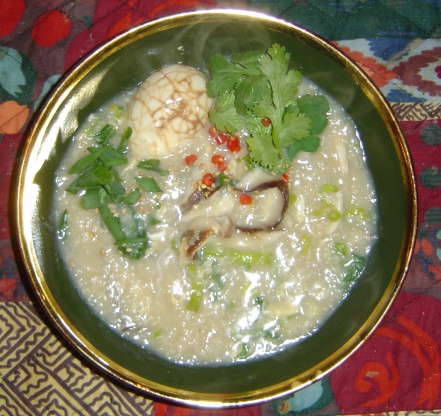 Sometime ago I saw a program on television where they made this with pork. The dish looked very interesting to me and healthy. I have made it now several times as a soup and added my own ingredients. This is what I found out about congee. It's a boiled rice porridge eaten by the Chinese for breakfast. In various areas they will add fermented bean curd, pickles or greens. In the South, meat, chicken, roast duck or fermented eggs are added. The rice will thicken the soup. I went for chicken and mushrooms plus some vegetables, I like to serve this soup/porridge with tea-marbled eggs(Tea Marbled Eggs) Depending on availabilty and price I do sometimes substitute mushrooms for the shiitake My husband likes the congee sprinkled with chilies for an extra kick. If you make this in advance it will probably be thickened when you reheat it, just add some water or chicken stock.

Ive had congee a few times before... but Ive never actually made it myself. This recipe is very easy to follow, and it delivers a fabulous congee. The drizzle of sesame oil adds a very nice touch, and I added a tad bit of oyster sauce, but felt soy was not necessary. I had this for lunch and dinner two days straight while DH was away in India LOL and cant wait to make it again so he can enjoy it as well... Sorry it took me so long to review!
8

cups good chicken stock

1

cup rice, I prefer short-grain but long-grain works too

4

garlic cloves, crushed

6

ounces fresh shiitake mushrooms, stems removed and sliced (soaked in hot water for 20 minutes also stems removed and sliced) or 12 dried shiitake mushrooms (soaked in hot water for 20 minutes also stems removed and sliced)

1

tablespoon grated ginger

2

cups thin sliced chicken breasts (you can also use cooked chicken, shredded or chopped)

2

cups chopped pak choi (or a mix of these two) or 2 cups leeks, chopped in fine rings (or a mix of these two)

1

tablespoon soy sauce, to taste

1

tablespoon oyster sauce, to taste
salt, to taste
white pepper, to taste

Garnishes

green onion, chopped
tea marbled egg
finely chopped fresh spinach leaves
chopped chile
egg, thin omelet, cut in fine strips
sesame oil
Bring chicken stock to a boil, add the rice and the garlic, reduce the heat and simmer for approx 2 hours until the grains break down but not completely disintegrate, stir occasionally.
Add the chicken, shiitake and ginger, and cook for 5 minutes.
Add your chosen vegetables cook for another 3-5 minutes.
Taste the soup and add soy, oyster sauce, salt and pepper to taste.
Serve in bowls, drizzled with some sesame oil, and any or all of the above garnishes in separate bowls/dishes for people to help themselves.