Prep 20 mins
Cook 30 mins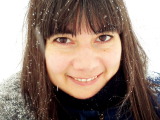 This is my favourite side dish to pair with my Chili Pork Steak (Chili Pork Steak). The sauce from the meat just goes perfectly with this.
Directions
Combine water, rice and salt in saucepan. Bring to a boil and simmer covered about 15 minutes until rice is cooked and water is absorbed.
Meanwhile, melt butter in a small frying pan. Add onion and saute until soft, then stir into rice.
Add first amount of cheddar cheese, parsley and sour cream to rice mixture. Turn into a greased 2 1/2 quart (3 L) casserole dish.
Sprinkle with remaining cheese and almonds, if using. Bake uncovered at 350F for about 30 minutes, or until heated through and browned a little on top.
Freezes well.
Reviews
Most Helpful
Very good. My husband and extended family loved it. It's a keeper!
This made for very nice side dish. The chopped green onions and the parsley flakes made for appeal, the almonds added crunch. Next time I will try it with the Chili Pork Steak. I'm sure Theresa P's addition of the green chilies would be good too. Thank you for sharing.

I really liked this smooth , creamy , rice dish !! I added a can of chopped green chilies to the mix and I think it really kicked up the flavor a lot !! I will be making this recipe often !!