Rice Cake (Torta Di Riso)
Annacia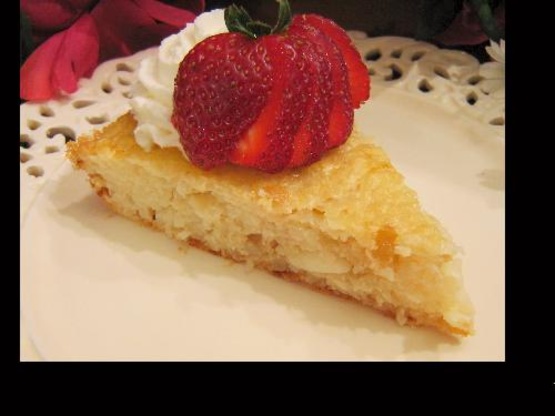 Posted for the Zaar World Tour-Italy. From the "Northern Italy Cooking" cookbook. I haven't made this yet, but plan to. This recipe is from Bologna, which is in the Emilia-Romagna region of Northern Italy. Arborio rice is a short, thick-grained Italian rice. Note: prep time does not include cooling time.

I love this. I had a split opinion on star #'s though. I rate 5 for taste and 3 for recipe accuracy so I split the difference and gave it 4. The taste is pure delight with the lemon present hitting that perfect balance, clearly present but not taking over the custard or almonds. For a baked rice pudding this is very light and easy to enjoy right after dinner and it looks elegant, all excellent qualities. As to the working of the recipe as written I found some things to be off quite a bit. First, the time stated for simmering the rice (uncovered) is 45 mins to an hr. I covered mine and placed it on the "2" heat mark with "10" being the highest. I found all of the milk absorbed and the Arborio 90% tender in just 15 mins. If I hadn't been at the puter in the kitchen I would have missed the pot sounds and the batch would have been burnt and ruined. I use Splenda in place of sugar and add it when something like this dish comes off the stove. I took a spoon tip taste and the candied lemon had made it very sweet already so I used a scant 1/2 cup of the Splenda which when baked turned out just right. A full cup of Splenda or sugar would destroy the great balance of flavors and make it hard to enjoy as ir would be too sweet. The amount I had (I made the full recipe) didn't look enough to need a 10 inch Spring-form so I used a regular pie plate and the finished depth was exactly 1 inch deep. It took the full 45 mins to color nicely on top. Would I make it again? absolutely!. Would I make a couple of changes? absolutely. This is delicious and I would recommend it to rice pudding lovers who enjoy a less creamy and wonderfully flavored dessert that is served in slices. *Next Day Update*: I warmed a piece in the micro for 20 secs this morning for brekkie and it was wonderful! It reheated beautifully and was even better in flavor :D.
Preheat oven to 350ºF.
Butter a 10-inch spring form pan.
Sprinkle pan with fine unflavored breadcrumbs and shake off excess crumbs.
Combine milk, sugar and lemon zest in a medium saucepan; bring to a boil, stirring frequently.
Stir in rice and reduce heat.
Simmer uncovered 45 minutes to 1 hour or until all the liquid is absorbed; stir occasionally to make sure mixture is not sticking.
Remove from heat and let cool.
Beat eggs until foamy in a large bowl.
Add cooled rice mixture, almonds, candied citron and 1/4 cup rum.
Mix thoroughly.
Pour rice mixture into buttered pan and level top with a spatula.
Bake 40 to 45 minutes or until a wooden pick inserted in center of cake comes out dry.
Pierce holes in top of cake with fork and sprinkle with 2 to 3 Tablespoons rum. Cool to room temperature, them remove cake from pan. Decorate with whipped cream.