Serah B.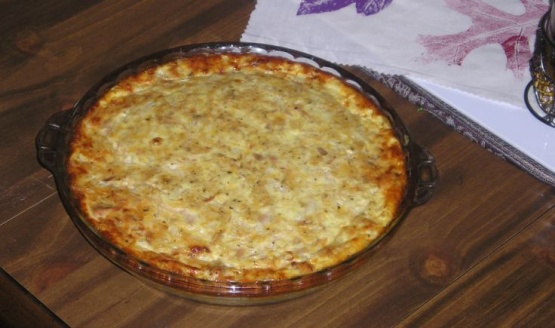 An old favourite, that I seem to have been making forever. Reheats well for lunch.

This was really good. I didn't know what "Bake in moderate" meant, so I baked in 350 oven, and that worked fine. Also, I could only find 170 g cans of tuna, so I used less than the recipe, but it still turned out very well. The marjoram is a wonderful flavor for this.
Shell: Combine 2 cups rice, melted butter, 1 tablespoon onion, mjarjoram and beaten egg.
Press into bottom and sides of lightly buttered pie dish.
Filling: Layer can of drained and flaked tuna evenly over rice shell.
Combine 3 beaten eggs, milk,grated cheese, onion and marjoram.
Pour over tuna.
Bake in moderate over for 50- 55 minutes or until knife comes out clean when inserted in centre.