Rice and Mushroom Delight
Boomette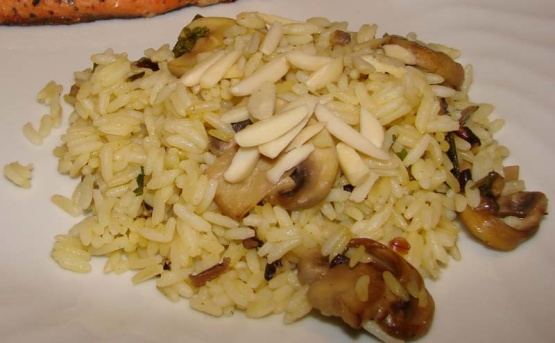 A nice side dish for your favorite meal or serves 3-5 as a vegetarian main course.
Fresh & easy dish. Other than the flavour I like the fact you can pre-cook the brown rice ahead of time. Then closer to meal time you can saute your vegys & through it together. Then if you have a convection oven, you have brown rice ready in less than 30 mins. Due to preference, the only change I made was to omit the nuts. All the other ingredients were bang on but found it was only enough for 8 servings. A keeper recipe, thanks for sharing.
Pre-heat oven to 350°F.
Cook rice with broth in an automatic rice cooker.
In a skillet, melt butter over med-low heat, and sauté onions and mushrooms until onions are soft but not brown.
Remove from heat, and add lemon juice, wine, parsley, salt, and pepper.
Combine with cooked rice.
Drizzle with melted butter.
Refrigerate until needed.
Bake, covered, until heated through (30-45 minutes).
Before serving, sprinkle with chopped cashews to garnish.