Pam-I-Am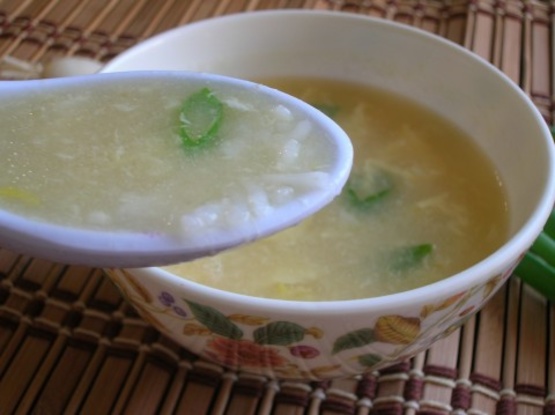 This is a meal in a bowl! I got this from the New York Times magazine. It is adapted from and similar to the Japanese dish, zousui. You can use any kind of broth and any kind of rice, though the starchier the rice, the thicker the soup will be. Add cooked veggies or pieces of meat for a heartier dish. Prep time does not include cooking the rice.

Good! Great for a winter or fall day. I was a bit confused on what part of the egg to keep - the whites? Yolks? Both? I ended up using just whites and it turned out fine.
In a medium covered pot, bring the chicken broth and rice to a boil over medium heat.
Crack each egg into a medium mesh strainer, letting the thin white of the egg drain away. Transfer the remaining yolk and white into a small bowl.
Beat well with a fork. (20 seconds).
Remove the lid and circulate the broth with a fork to create a whirlpool effect.
Pour the eggs into the pot through the tines of the fork to separate strands as it goes into the "whirlpool.".
Cover the pot and cook for 1 minute, then turn off the heat and let set for 1 minute more.
Season to taste with salt and fresh ground pepper.
Ladle into bowls.