Rice-A-Roni Chicken Curry Salad
Pam-I-Am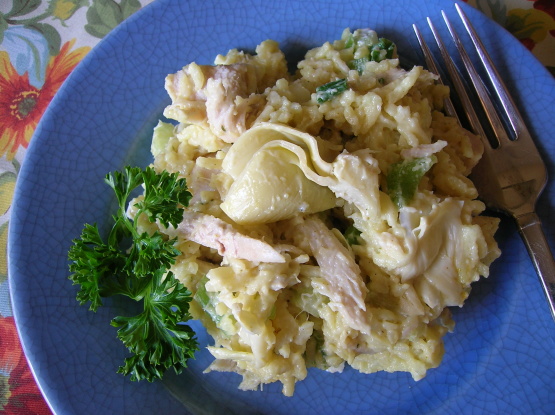 This is a recipe for a cold rice/chicken salad with a curry twist, using Rice-a-Roni. My sister-in-law makes this for potlucks, baby showers, family get-togethers. It is always a favorite dish. I have made it as well and love the curry taste in it....and I'm not a huge curry fan! This recipe will serve 6 if it's used as a main dish or 8 for side servings. If you make it for a crowd, just double the recipe.

I love this recipe. I use red bell pepper for color and I use green olives with pimentos in the middle. YUMMMM!!!
Cook Rice-a-Roni according to directions and cool.
Cook chicken separately and chop.
Add into rice, the diced onion, green pepper, artichoke and chicken.
Next, stir together the three dressing ingredients in a small bowl.
Add dressing to rice salad mixture and stir.
Place salad into a 9 x 13 dish or deep bowl edged with curly lettuce leaf to make it pretty.
Chill 2 hours and serve.