Riccioli Con Melanzana E Mozzarella
Cook4_6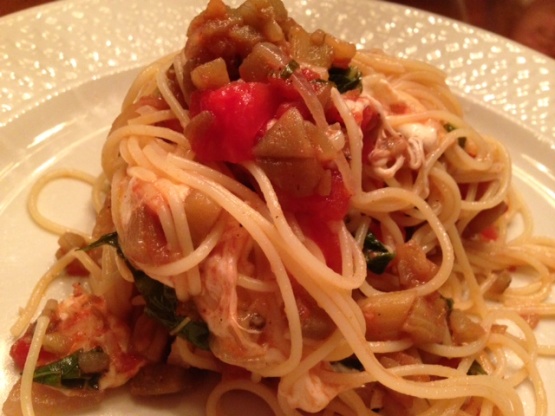 Taken from here = http://italianfood.about.com/od/pastabasics/ig/The-Pasta-Shapes-Gallery/Riccioli--Pasta-curls-.htm Cooking times are estimates.
Peel and sliced the eggplant; salt the slices and put them in a colander in the sink for an hour, while the salt draws out their bitter juices.
Rinse them, pat them dry, and dice them finely.
Heat the olive oil in a large deep skillet and sauté the onion until it has become golden and translucent.
Add the eggplant and cook, stirring, for 5 minutes.
Add the tomatoes and the basil, check seasoning, and cook the sauce for 15 minutes.
While preparing the sauce you should also heat the pasta water, salt it, and cook the pasta; by this point the pasta should be about done.
Drain it, and turn it into a bowl with the mozzarella and freshly grated Parmigiano.
Serve at once, with more Parmigiano for those who want it.