Ricciarelli - Traditional Italian Almond Cookies
BecR2400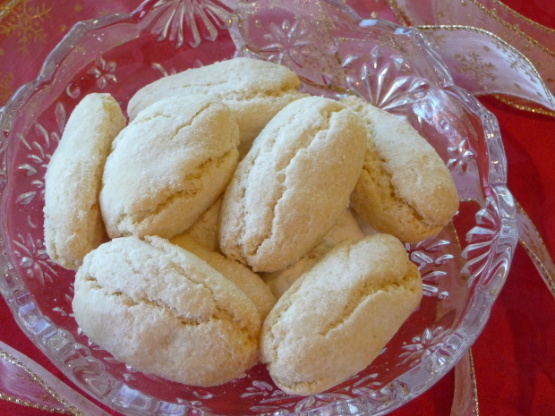 Ricciarelli are wonderful intense flavor almond cookies that originated in the town of Siena, Italy. Very popular year 'round, but especially at Christmas time! I like to add a spoonful of rum or orange zest to the dough, for variation. You can also use lemon, brandy or Amaretto. Dip the baked ricciarelli in melted chocolate, if desired. I hope you enjoy them as much as we do!

Top Review by Marshy
The taste wasn't bad, but the almond paste was next to impossible to get mixed with the rest of the dough. They didn't "rise" or expand at all and basically turned out to be coffee dunkers. There's other recipes that don't use almond paste. I'll try one of those.
Place the blanched almonds into a nut grinder or food processor fitted with a steel blade; process to a fine powder.
Transfer to a mixer bowl and mix in the almond paste with an electric mixer. Add the egg white and mix at the lowest speed until thoroughly blended (the dough should be firm). Add the baking powder and the almond extract (and the orange zest if using), and mix until well blended.
Use a small cookie scoop to portion the dough into roughly 1-heaping tablespoonful sized balls. Dust your hands with icing sugar and then roll these balls to form little finger sized logs. Place the ricciarelli logs 1 inch apart on parchment-lined baking sheets and then flatten slightly. Let stand uncovered at room temperature at least 1 hour or overnight.
When you are ready to bake, pre-heat the oven to 300F degrees.
Place cookie sheet on the middle rack of the oven and bake until the cookies are a very light tan, 20 to 30 minutes. Take care NOT to bake until brown or crisp, as it is the softness that makes the ricciarelli so delicious!
Generously dust cookies with additional icing sugar while still warm, then carefully transfer to racks to finish cooling.
Ricciarelli cookies keep for several weeks in an airtight container.