Ricardo's Herbed Potato Crisps
Redsie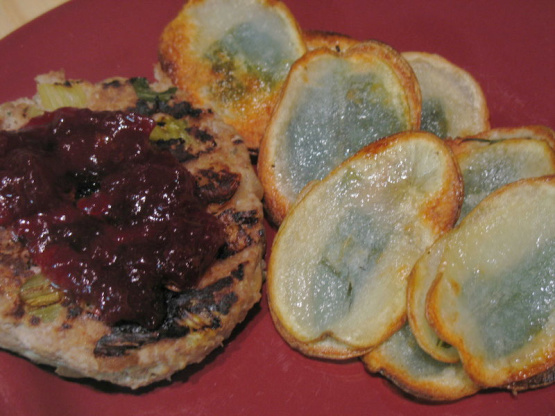 WOW! These are soooo good and they look so fancy! A bit more work than traditional potato recipes but they look amazing! The original recipe called for 1/2 cup melted butter - but I used about 1/4 cup.

We loved these! I was looking for something interesting to do with potatoes and this worked brilliantly. I absolutely love basil so used fresh basil leaves and the flavour was lovely. Next time I would mix some garlic powder in with the melted butter to give a broader range of flavours. Thanks for a keeper! Made for 123 Hit Wonders.
With the rack in the middle position, preheat the oven to 450°F Line a baking sheet with parchment paper and butter the paper.
Using a madoline, cut the potatoes into thin, nearly transludent slices; you should get about 24 slices from each potato. Avoid making the slices too thin, or they will shrink and break during cooking.
Lay half the slices on the baking sheet. Brush with butter. Place 1 herb leaf in the centre of each slice and cover with another slice. Brush with butter. Sprinkle with salt.
Bake for 6 to 7 minutes. Turn and bake for another 6 or 7 minutes or until the potatoes are a light golden colour.