Ricardo's Bolognese Sauce
Cook4_6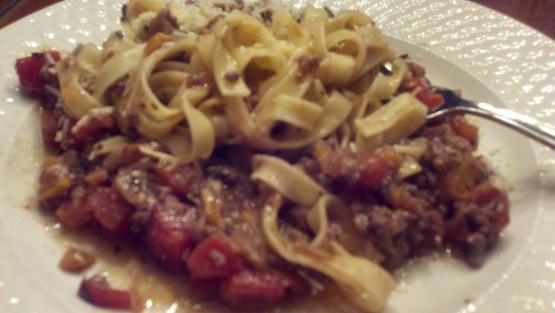 From Ricardo. It's one of my favorite sauce. DH loves this sauce a lot.

This is a very tasty Bolognese Sauce. I did have to make a substitution for the celery root because my local grocer did not have it in stock. Perhaps it would have added another layer of depth to the flavor that would have taken it over the top. I loved the richness of flavor the wine brought to the dish, normally bolognese is heavier on the tomato flavor than this one, but I found this to be a wonderful variation. I also only had 1.5 lbs of ground beef on hand and thought that was plenty for the sauce.
In a saucepan, brown the pancetta in oil.
Add veggies and garlic. Cook a few minutes.
Add meat and break with spoon at high heat until cooking juice has evaporated.
Add wine and let reduce by half.
Add milk and let simmer slowly 5 minutes.
Add remaining ingredients and keep cooking at low heat for about 2 hours. Serve the sauce on pasta.