2Bleu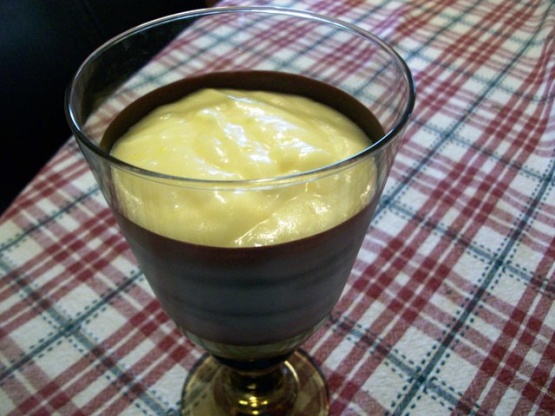 I wanted to do this recipe since I saw it in Ricardo's magazine. I made it tonight. It's so yummy. But for us it's too sweet. Next time I'll use less sugar in the meringue.

Loved everything about this mousse, but then we both have a sweet tooth AND we both enjoy a good taste of lemon! I'll be making this again, for sure, & at least one time I might just use a sprinkle of dried fruit granola as a topping, to see how that works out! Your recipe is definitely worth keeping around! [Tagged & made in Please Review My Recipe]
In a little bowl, sprinkle gelatin on the water and let rest 5 minutes. Set aside.
In a saucepan, out of the heat, mix 1/2 cup sugar and cornstarch. Incorporate the 3 eggs, lemon juice and butter with a whisk. Bring to boil stirring constantly. Add gelatin and stir until it's dissolved. Pour in a large bowl. Cover with plastic wrap directly on the cream and put in fridge until temperate and still malleable, about 30 minutes.
In a clean bowl, whisk egg whites with electric mixer until soft peaks. Add gradually the 1/2 cup sugar whisking until hard peaks. With a spatula, incorporate the meringue to the lemon cream.
Distribute in 6 ramequins. Cover and refrigerate about 2 hours.