Rib-Eye Steaks With Roasted Red Peppers and Balsamic Vinegar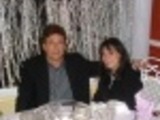 These flavorful steaks are easy to prepare, yet make a fabulous impression. I have enjoyed them served with some nice cheesy polenta on the side. The preparation time noted does not include marinating time.
Directions
Whisk oil, 1 T. vinegar, 2 t. garlic, rosemary, and pepper in 13x9x2-inch glass baking dish. Add steaks; turn to coat. Let stand 1 hour.
Heat heavy large skillet over high heat. Remove steaks from marinade; sprinkle with salt. Place in skillet; saute to desired doneness, about 4 minutes per side for medium-rate. Transfer to plates.
Add peppers, 1-1/2 T. vinegar, and 1 t. garlic to skillet. Stir until heated through, about 1 minute. Spoon peppers and pan juices over steaks.
Most Helpful
This was very nice, served with some baby taters fried with the meat. Thanks for a great meal.