Rib Eye Steaks With Fragrant Chile Rub and Salsa Butter
teresas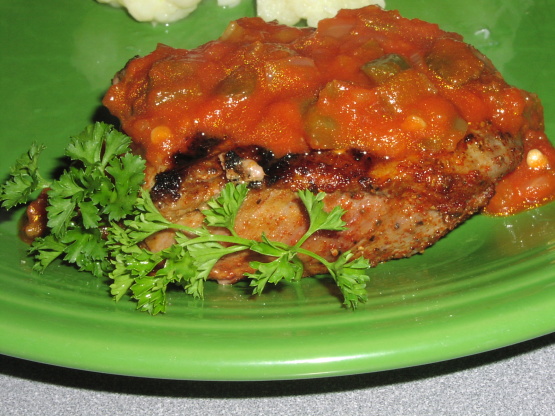 Adapted from "Mastering Grilling" by Andrew Schloss and David Joachim.

Another winner! This is the best-flavored steak I have had in a very long time. Loved the spices and the salsa butter -- they just compliment each other so well. DH absolutely loved this seasoning mix and ate every bite of his steak - nothing left over for the puppies. This is going to be my new "go-to" seasoning mix for sure! Served this steak with corn on the cob and fresh green beans with new potatoes. Made for ZWT-8-Family Picks.
Pat steaks dry with paper towels, then scatter the chile rub over the steaks, patting it in with your fingers to adhere. Let the meat rest at room temperature as you heat the grill.
Oil a grill rack and arrange 4 to 5 inches from heat. Prepare grill for a hot fire or high temperature on a gas grill.
Grill steaks until darkly crusted, 3 to 4 minutes per side. Reduce heat to medium low (on a gas grill) or move steaks to low-heat area (for a charcoal grill), cover and grill for another 3 to 4 minutes for medium-rare to medium (135 degrees to 140 degrees).
Transfer to a platter, cover loosely with foil, and let rest for 5 to 8 minutes. Serve topped with generous dollops of Salsa Butter.
To prepare the Fragrant Chile Rub: Combine all ingredients to blend.
For the Salsa Butter: Bring the salsa to a boil in a small saucepan or skillet and cook until most of the liquid is gone. Remove from heat and whisk in the butter until the sauce is smooth. Serve warm.