Rib Eye Steak in Bock Beer Marinade
Parsley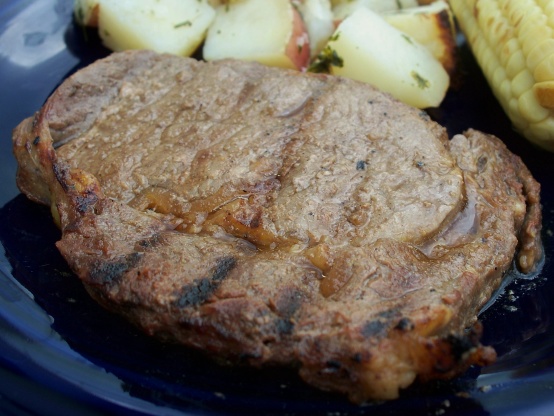 AUS/NZ for ZWT 5 due to the influence the German culture has had on the region and the propensity for grilling! So succulent and tender you may not even need a knife. This steak is one of the top dishes served at Hudson's on the Bend, a popular Austin, TX, restaurant known for its game cooking and big-flavored, robust dishes. "These guys could cook a horseshoe and make it delicious," says CBS news anchor and frequent Hudson's diner Dan Rather in the foreword to their new book." Chef Jeff Blank offers creativity and originality in the kitchen to make him one of the most celebrated chef's in the country. Jeff has owned Hudson's on the Bend Restaurant in Austin since 1984. Prior to that, he owned and operated Wineskin Restaurant in Aspen, Colo. He was praised by the New York Times, Texas Monthly, and Chef's Magazine. In 1996 and 1997, Jeff won the People's Choice Award at the Texas Wine and Food Festival. Hudson's on the Bend was named to the "Top 50 Restaurants in America" list. (Cook time does NOT include marinating time.) Variations: This is also a wonderful marinade for baby-back ribs, portabello mushrooms, chicken . . . you get the idea. Timing: Marinate the steaks in an airtight plastic bag the day before grilling to achieve the optimum flavor. http://hudsonsonthebend.com/main.php.... PS Tamaretta, thank you and YES this marinade is wonderful on portabellos!

I am so sorry, but no one in my household or the guests tonight liked this. I followed the recipe, and cooked on a charcoal grill, but this just had an "off" taste. The steaks did not seem to be anymore tender because of the long marinating time. This is one of the first times my family and guests have returned their plates with practically all their meat left on it. No one complimented the recipe, and no one asked for the recipe. I am so sorry....I don't usually give a bad rating, because I know how I would feel if I got one. Maybe it was my steaks, or maybe the seasoning just didn't agree with us. But I can't honestly give this recipe a higher rating. So Sorry. Made for Football Tag.
Combine all ingredients except salt. Salt in the marinade draws too much moisture from the meat over an extended time.
Pour over steaks and marinate from 4 hours to overnight.
Cook the steaks over medium-high heat to your taste- about 4 minutes each side for medium rare to medium, longer for steak that is more done.
Of course everything tastes better when it is cooked outside BUT you can broil this inside and it comes out great!
Season with salt to taste after cooking.