Prep 45 mins
Cook 20 mins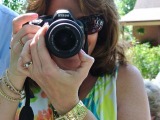 In response to a request. Yield & times are a guess.
Make and share this Rhubarb-strawberry Sauce recipe from Food.com.
Directions
Bring rhubarb and jelly to a boil over medium heat, stirring frequently.
Reduce heat; cover and simmer for 8-10 minutes or until rhubarb is tender.
Remove from heat. Mash with a potato masher.
Stir in strawberries and sugar; bring to a boil. Cook and stir for 1 minute.
Remove from heat; cool. Pour into freezer containers; refrigerate or freeze.
Serve as a side dish or over ice cream or waffles.