Rhubarb & Strawberry Crisp
Annacia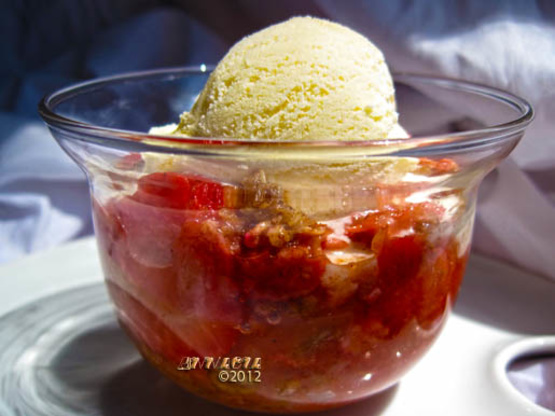 I found this on one of those little grocery store recipe cards. I love the combination of rhubarb and strawberries anyway so this is a fun way to serve that as a crisp. The card shows how to make this on the "grill" which is basically putting the dish on the cool side of a grill and cooking covered for 25 minutes. That means if you don't want to turn on an oven you can still make this dish. The other option would be your oven and you would bake uncovered for 20-25 minutes. Either way it is great and even more wonderful with a scoop of vanilla ice cream.

I think my DH wants to propose to you Mel! He's been talking about strawberry rhubarb pie and for some reason I really hate making them. I made this marvelous recipe instead and he already has it 2/3 gone in three servings. I'll be surprised if it sees nightfall let alone tomorrow morning. I had a small sample and it is delicious. I subbed Splenda for the sugar but all else was by the recipe. This is classic sweet/tart and pure summer heaven and luckily I have a bumper crop of rhubarb this year but I'm really going to need to stock up on strawberries!
In a large mixing bowl combine rhubarb, strawberries, sugar, lemon juice, cornstarch and the pinch of salt, stirring together well.
Spoon mixture into an 8x8 in (20x20 cm) glass baking dish.
In a second bowl, combine brown sugar, oats, cinnamon, nutmeg and butter, and stir with a fork until mixture resembles coarse crumbs. Sprinkle this mixture over the fruit mixture.
If using oven, place in a 325F preheated oven, and bake uncovered for 20-25 minutes until golden brown on top and fruit is tender.
If using an outdoor grill, position the pan on a cool side of the grill (that means for a gas grill no heat directly underneath). Maintain the heat to a medium-low temperature (around 300F). Close lid of grill and cook 25-30 minutes. Make sure to rotate the baking dish on the grill about every 8 minutes for even cooking.
Either way, the fruit should be tender and the juices bubbling when finished cooking.
I love serving with a scoop of vanilla ice cream or frozen yogurt.