These squares are so yummy. I made them a few times when I was living with my parents. It's from Qu'est-ce qu'on Mange
Directions
Preheat oven to 375°F.
In a bowl, cream the butter. Incorporate the 1/4 cup brown sugar and 1 1/2 cup flour. Put this mixture in a greased cake pan of 8 inches press firmly on the bottom and sides.
In a saucepan, cook rhubarb 15 minutes with the 1 1/2 cup brown sugar at medium heat. Let cool.
In a bowl, mix eggs, 3 tablespoon flour, salt, milk, melted butter and cooked rhubarb. Pour slowly in the cake pan.
Cook 45 minutes and let cool.
Cut in 64 squares.
Reviews
Most Helpful
This is so delicious - I loved the crust which is like a nice shortbread. I used fresh rhubarb from our yard and made this exactly as directed. I cut it into about 16 squares and enjoyed it with a bit of whipped cream. Made for the Tasty Testers for ZWT9. Thanks Boomie! :)

We absolutely loved this, and it was a nice change of pace from other rhubarb desserts. We cut this into 9 squares, so it was more of a cake for us, and served with some whipped cream on the side. The filling was nice and custard-y and tart. Made by a Tasty Tester for ZWT9.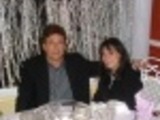 Really loved these squares!! I made 1/2 of the recipe and the only other changes I made were to add a few shakes of cinnamon to the rhubarb brown sugar mixture and I did bake the crust for 15 minutes before adding the filling as another reviewer suggested. I had my first piece plain but plan to add a scoop of vanilla ice cream for my next piece, so yummy!! Thanks for sharing the recipe. Made for ZWT 9.