Boomette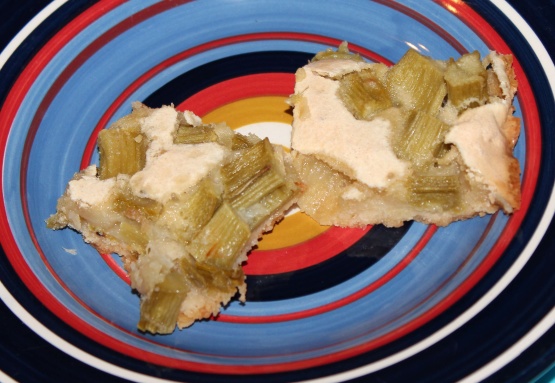 This was pretty good, but I think next time I'll add some brown sugar or something, to "kick up" the crust portion a little. The "filling" was excellent with a little lemon zest added in. I just think the crust is a little tasteless. A few alterations, and this could make a great, tasty, low-fat new way of enjoying the taste of rhubarb deserts, without a ton of fat.
Combine flour and powdered sugar; cut in butter until mixture resembles coarse crumbs.
Press into the bottom of a greased 11-inch x 7-inch x 2-inch baking pan.
Bake at 350 degrees F for 12 minutes.
For filling, combine the first four ingredients in a bowl.
Stir in rhubarb; pour over a warm crust. Bake at 350 F for 35-40 minutes or until wooden pick inserted in center comes out clean.
Cool on wire rack.
Serve warm if desired.
Store in refrigerator.