Rhubarb Smoothies and Shakes
twissis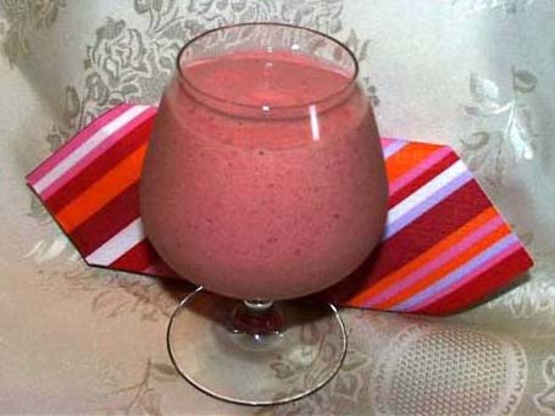 A verstatile rhubarb sauce that is good to keep in the refrigerator to whirl with fruit and milk or frozen yogurt for a fast breakfast on the run. Recipe for a Pick-a-Fruit Rhubarb milkshake, using this rhubarb base, is included. Delicious with the strawberry option and the ice cream addition for a thick shake. Edited with twissis' excellent tips: The base mix cooks down to a volume of about 3 cups which would provide 6 servings. For each shake use 1/2 cup base mix, 3/4 cup strawberries or other fruit, and 1/2 cup ice cream (no milk). Thanks to Twissis for these refined directions for using the base mix.

I *love* rhubarb as a legacy of my childhood, have a steady supply of it during the summer mo & esp like it combined w/strawberries - so your recipe was a natural for me. After some initial confusion about the recipe, here is what I worked out: The real recipe is for the base mix. The Pick-a-Fruit milkshake part of the recipe is just how you go about using the base mix to make milkshakes. All that said, I made our shakes using 1/2 cup of the base mix, 3/4 cup strawberries as suggested + 1/2 cup ice cream for ea shake (no milk). This mix made a creamy shake both DH & I thot was a real taste treat! Thx for sharing this recipe w/us. Edited to Add: My proportions made a thick shake. For a smoothie texture, milk will need to be used. :-)
RHUBARB BASE:.
In a non-reactive medium saucepan, stir together sugar and orange juice.
Stir in rhubarb and bring to boil over medium-high heat.
Reduce heat to medium and simmer, stirring occasionally, until rhubarb is tender, 5 to 7 minutes.
Transfer to airtight container.
Cool, cover and refrigerate for up to 1 week.
FOR EACH PICK-A-FRUIT AND RHUBARB MILKSHAKE:.
Toss the 1/2 cup rhubarb base mix and chosen fruit into a blender.
Add some milk or frozen yogurt or ice cream for a thicker shake.
Blend until mixed well.