cblwolf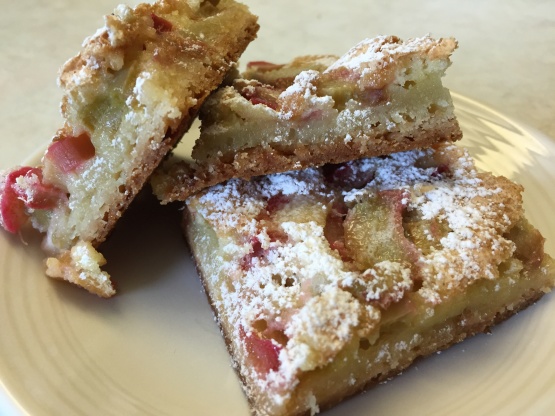 I love rhubarb and this is my favorite way to fix it. I have to make this when I have company over or I will eat the whole thing myself:)...so, so good.

I love rhubarb and I have tried many recipes, but I always come back to this one. So simple, tart, and good! I have made this for years, and before that, my mom made it. I look forward to it every year. This is good as it is, but also warmed up with some ice cream or whipped cream.
In food processor, mix together the crust ingredients.
Press into a 15 x 10-inch pan.
Bake at 350° for 15 minutes (crust will be very light colored).
Meanwhile, combine eggs, sugar, flour and salt; beat together.
Fold in rhubarb.
Spread filling mixture on hot crust; return to oven to bake 40-45 minutes longer.
Cool; cut into bars.