Debber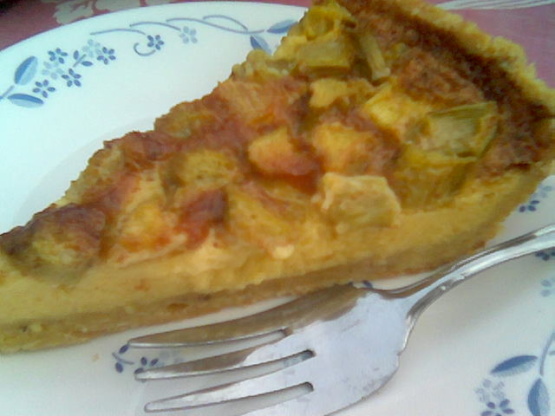 From Libby's old newspaper clipping. I have made this but not with the meringue. I just mixed the whole egg together and added some nutmeg and 1 cup sugar. This is a really good recipe.

Delicious! I didn't do the meringue and used whole eggs to make the custard. It tasted so good : this is a recipe that I'll be coming back to!
Spread thinly sliced rhubarb in bottom of unbaked pie shell.
Heat milk; add butter.
Beat egg yolks; add sugar, flour, salt.
Gradually pour hot milk mixture into egg mixture.
Pour this custard mixture over the rhubarb; sprinkle nutmeg over pie.
Bake at 425F for 10 minutes; reduce heat to 325°F and bake for 30 minutes.
Remove from oven.
Beat egg whites and honey together until stiff. Spread meringue over top of pie.
Bake at 300°F for 20 minutes.