DuChick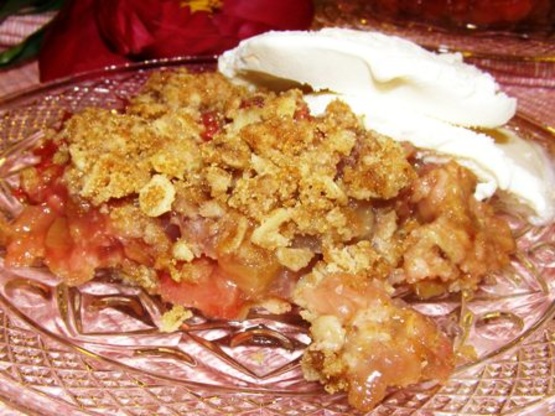 This is a wonderful springtime treat! I took the advice of a few others and pre-baked the crust 12 minutes to help it set up. I added about 6 strawberries to the fruit mix for added color and flavor. I baked it all for an additional 50 minutes. I'm not a big rhubarb fan, but I LOVE this!
Mix flour, rolled oats, brown sugar, margarine and cinnamon until crumbly: Press half of this mixture into a 9" greased pan.
Cover with chopped rhubarb.
Combine sugar, cornstarch, and water.
Cook until thick and clear in a small saucepan.
Remove from heat and add vanilla.
Pour over rhubarb. Top with remaining crumbs.
Bake at 350°F for 1 hour.