Rhubarb Crisp: a Celebration of Summer!
Iceland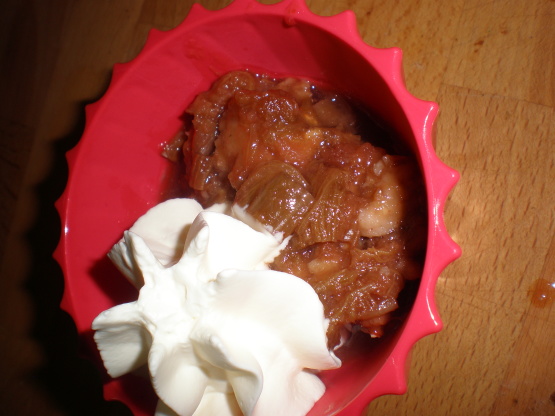 My rhubarb flourishes at the end of my clothesline, right next to a patch of hollyhocks that sway in the summer breezes. Right now there are some little birds (I can't make them out with my spotting scope) snatching up pine needles and flitting about busily. Anyway, this recipe comes from the June '09 issue of *Country Living*. I do live in the country, and have an abundance of rhubarb. It's easy to freeze the cut-up pieces, and if you toss the pieces with sugar (right in the zipper bag), you can pop it in the freezer and use them later. The extra sugar will be fine in the recipe!

This is delicious! I love crisps and this was a wonderful twist. Like another reviewer I cut down on the sugar I used all brown sugar as I find white sugar gives me headaches I did add more brown sugar than called for though. I used rhubarb from the garden, a gluten free flour mix (white rice flour & tapioca starch in half the amount) salted butter and regular oats plus the rest of the ingredients. I will make this again! Made for ZWT6 Scandinavian region, for my team, The Ya Ya Cookerhood!
Preheat oven to 350.
Spread 'barb around a 13x9 (or for a thicker crisp use an 11x7) pan.
In a mixing bowl, combine flour, sugars, cinnamon and zest.
Cut in butter with a pastry blender, until it resembles coarse meal; toss in the oats.
Sprinkle "crumble" mixture over 'barb.
Bake until topping is browned and filling is bubbly, about 40-50 minutes.
Serve warm with or without ice cream or whipped cream.