Debbwl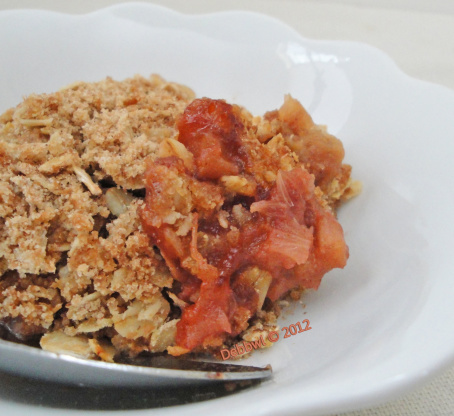 This is an extraordinarily good dessert that's very basic and good served warm with vanilla ice cream or whipped cream. If you wish, you can add strawberries to the rhubarb mixture, along with a touch of grated gingerroot.

Top Review by Debbwl
Loved the simplicity of this crisp and that there were no strawberries lol, we also liked that it was not too soupy. What we did not like is that it had more topping than filling and that it was a bit too sweet for our taste. I made as written using 4 1/2 cups rhubarb, next time will increase the rhubarb maybe to 6 cups and the butter to a full 1/2 cup. Thanks for the post.
Cut rhubarb in 1/2-inch pieces. In a large saucepan, combine rhubarb, 1/2 cup brown sugar, cinnamon and 3 teaspoons butter. Cook on medium heat, uncovered, until the rhubarb is tender, about 10 minutes.
Make topping by combining flour, rolled oats, 1/2 cup brown sugar and 1/3 cup butter. Mix with fingers until it resembles small peas. Pour rhubarb into a greased baking dish and sprinkle topping over it. Bake at 375F for 20-25 minutes or until top is browned.