Saudie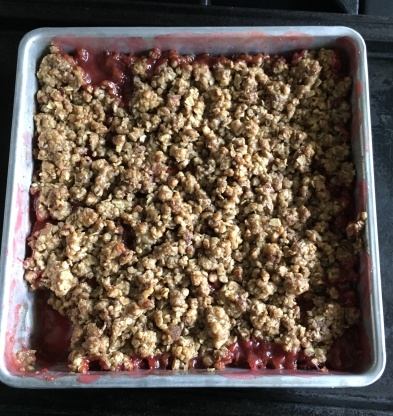 A friend of mine gave me a couple of recipes to try because I had quite a bit of rhubarb this year. So I created this recipe from the recipes she had given me. Deli-sh! Also in the recipe it calls for Strawberry Jam, I used my own freezer Jam I made earlier this year.

This was the easiest an most delicious Rhubarb Crisp, EVER! I was short one apple so substituted with 1 cup chopped fresh strawberries. Served to a dinner party of six with a small scoop of lemon sorbet on the side. Raves reviews!!!
In a large bowl, combine rhubarb, apples, sugar and flour; stir in jam and set aside.
In a small bowl, combine the oats, brown sugar, butter, flour, pecans and cinnamon until the mixture resembles coarse crumbs.
Spoon fruit into an 8-in. square cake pan that has been slightly sprayed with Pam. Sprinkle the oat mixture over fruit.
Bake at 350°F for 45 minutes or until bubbly and fruit is tender.
Serve warm with ice cream.