Boomette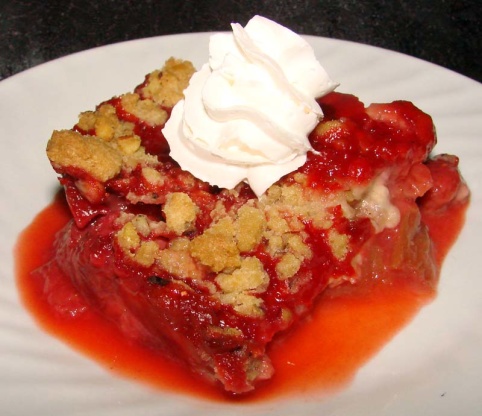 I was about the only rhubarb lover the time I made this, so I got most if it to myself! ;) Of course it's good with vanilla ice cream or whipped cream. It's from Ladies Home Journal 100 Great Pie & Pastry Recipes.

This is the first pie I've ever made and 1st time to cook rhubarb... Turns out everyone loves it!! Thanks ;) Btw, drained a bit of the water does help.
Preheat oven to 400°F.
FOR FILLING: Mix rhubarb, sugar, and flour.
Transfer to a 10-inch deep-dish pie plate.
FOR TOPPING: Cream the butter and sugars.
Blend in the flour and cinnamon.
Stir in the walnuts.
Crumble the topping over the rhubarb mixture.
BAKING: Place the crisp on foil-lined baking sheet.
Bake for 35-40 minutes or bubbling and golden brown on top.
Cool slightly and serve with vanilla ice cream or whipped cream.