Rhode Island Red's - Cincinnati Chili
john t.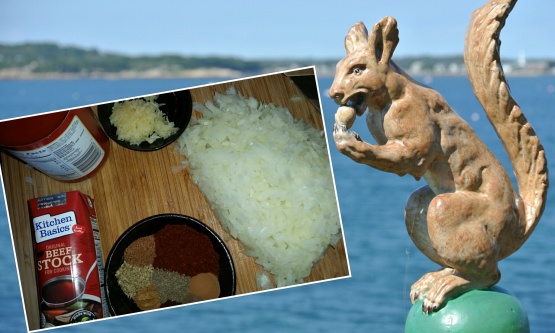 This is a recipe adapted from Saveur. It is the closest I have come to the real thing, maybe better.
Boil 4 quarts water in a deep pasta pot. Crumble in ground beef and whisk vigorously until the beef is broken up into small bits. Immediately pour through a sieve that is supported by a collander. Once drained, set aside.
While waiting for water from step 1 to heat up, finely chop the onion and set aside. Mince the garlic and set aside. Measure the spices and cocoa powder in a small bowl and set aside.
In a stockpot, crisp the bacon over medium heat until thoroughly browned. remove crisped bacon and set on crumpled paper towel to drain. Increase heat to medium high.
Saute onions in reserved bacon fat for about 6 minutes or until onions brown slightly. While sauteing, finely mince the crisped bacon and put on top of drained ground beef.
Add the minced garlic to the onions, swirling vigorously for 30 seconds, be careful not to burn the garlic.
Add the measured dry spices, stir the mixture vigorously for 30 seconds or until the spices become fragrant.
Add the drained meat and stir until combined.
Pour in the tomato sauce, swirl the stock in the tomato sauce can to rinse it and add to pot. Add the fire cider, hot sauce and tomato paste. Simmer uncovered until somewhat thick, about 30 minutes.
Meanwhile, bring a large pot of salted water to a boil over medium-high heat. Add spaghetti and cook, stirring occasionally, until tender, 8–10 minutes; drain. Put beans into a small pot and cook over medium heat, covered, stirring occasionally, until hot throughout. Divide spaghetti between 4 large bowls. Top with chili, cheese, remaining onions, and beans. Serve hot, with oyster crackers on the side.