Rezika's Cheese & Potato Bourek (Algerian Spring Rolls)
Um Safia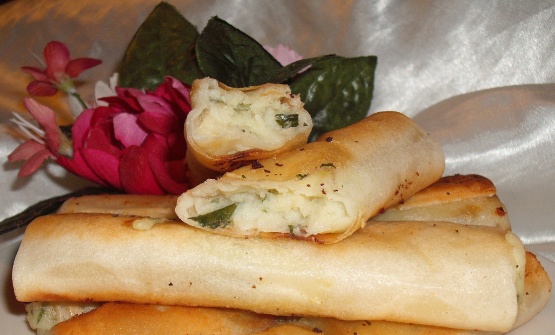 Here is the second of my Algerian bourek recipes. I have also posted a Chicken & Preserved Lemon Bourek recipe. This cheese & potato bourek is another of my family favourites & there never seem to be enough! You can use phyllo dough instead of the spring roll sheets. You can also add a few finely chopped olives in place of the gherkins. If you're not familiar with making bourek, have a look at the NA*ME Fourms Bourek Demo: http://www.recipezaar.com/bb/viewtopic.zsp?t=310912

Um Safia... Mmmm! My daughter and her friends love it when I make a batch of Potato and Cheese Perogies after a three hour dance class! I thought they would thoroughly enjoy your Cheese & Potato Bourek! I was so correct!!! They devoured these amazing Algerian Spring Rolls! I served them with individual little ramekins of Sour Cream... They all said that they were perfectly magical! Thanks for a devine recipe!
20 -24

spring rolls, pastry sheets (approx 21cm x 21cm)
2 1⁄2-3 cups mashed potatoes
3⁄4-1 cup cheddar cheese, grated (mature or sharp)
1⁄2 medium brown onion, finely chopped

1

medium pickled gherkin, finely chopped

3

tablespoons fresh parsley, finely chopped
black pepper (freshly milled)
flour, & water for the paste
Mix all the ingredients together in a large bowl, check for seasoning - adjust if required. Allow the mixed filling to cool if the mash is hot.
Fill & roll your bourek as follows:.
Lay 1 spring roll sheet on your work surface & place 2 generous teaspoonfulls of the filling onto the sheet. You need to place it in a line approx 1" up from the bottom of the sheet & the line of filling should have a fraction over 1" of spring roll sheet visable on both the left & right side.
Next bring the left side of the sheet over the filling - it will overlap the filling by about an inch. Do the same with the right side.
Take the bottom of the sheet in both hands & pull it up so that it covers the line of filling.
With a pastry brush or the back of a teaspoon, brush a small amount of the flour paste along the edges of the sheet.
Now start to roll the bourek, be careful to keep it tight & even. When you have rolled it up securely, you can brush a tiny amount of the paste along the seam so that the bourek stays closed whilst it is being fried.
Repeat these steps with the remaining spring roll sheets.
Now you can either freeze the bourek or fry them in a little oil. Cook over a medium heat in batches, in a large frying pan / skiller & fry until a deep golden colour on all sides - turning as required!