Reuben Sandwich - Microwave
Redsie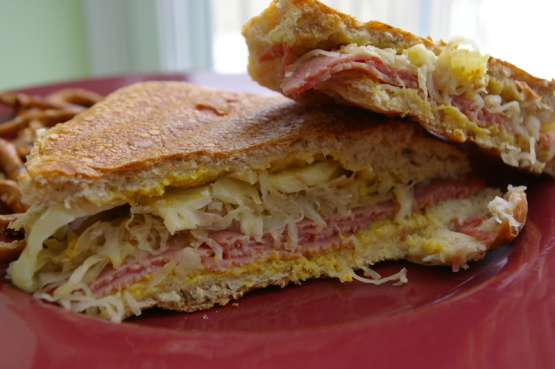 I don't remember where I found this recipe, but it sure makes it easy to get a fast sandwich on the table.
On a medium-size microwave-safe dinner plate, mound corned beef in 2 piles.
Top each pile of meat with the sauerkraut.
Micro-cook, uncovered, on 100% power (high) 3 to 4 minutes or until heated.
Top each pile with a cheese slice.
Cook, uncovered, on high 1 to 2 minutes more or till cheese is melted.
Meanwhile, place toasted bread on individual plates.
Spread one side of bread slices with salad dressing or mustard.
To serve, use a wide spatula to transfer each mound of meat to the dressing side of 2 bread slices.
Top with remaining bread slices, dressing-side down.