Reuben Egg Roll Wraps With Dipping Sauce
Alskann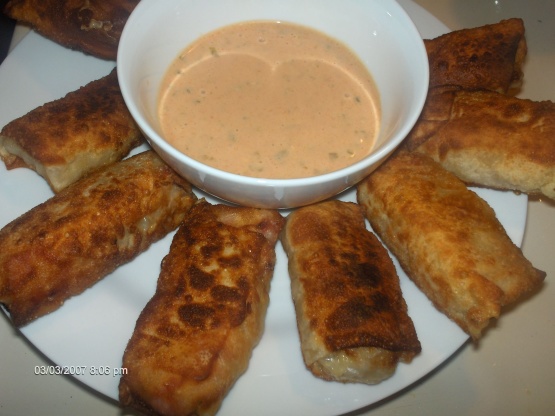 I love Reuben Sandwiches. Here is a twist on an old favorite. From Cuisine at Home.

These were great! A nice twist on the original sandwiches. I will definitely make these again. Thanks!!
Saute sauerkraut and caraway in a skillet over medium-high heat. When most of the moisture has evaporated and sauerkraut begins to brown, stir in lemon juice and set aside.
Arrange an egg roll wrapper on a work surface with a corner towards you; brush edges with egg wash.
Place a strip of cheese on the wrapper, about 1 inch above the bottom corner, then top with strips of beef and about 3 tbsp sauerkraut mixture. Drizzle with mustard. Fold the bottom corner up over the filling to enclose, fold in the sides, then roll to the top corner of the wrapper. Repeat with remaining wrappers and filling.
Heat oil in a large skillet over medium-high heat to about 360*. Add half the egg rolls and fry on all sides until brown and crisp, 5-7 minutes.Drain on paper towels while frying remaining rolls.
Serve Egg Rolls with Thousand Island Dressing for dipping.