ukichix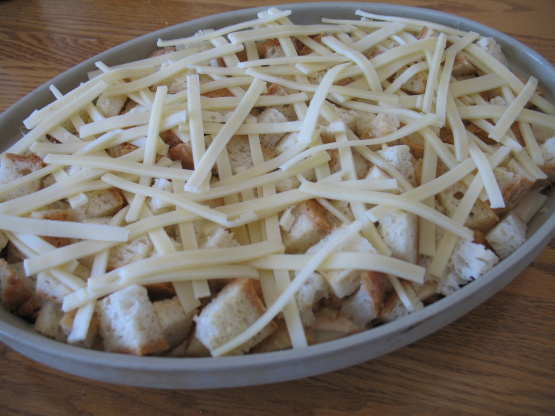 This will sound crazy...but the hospital I work for makes this is the cafeteria...and we love it!

Wednesdays are always hectic, so simple dishes are always plus for dinner. Since I love Reuben sandwiches, I thought I would give this a try. I am so glad I did. It was so simple to put together and tasted wonderful! Since no one in my family likes thousand island dressing, I made the sauce I normally top our Reubens with (mayo combined with German mustard & a little horseradish). The only thing I will do differently next time is add the sauce on top of the corned beef as it caused the bread to get a bit soggy. I look forward to making this again soon.
Combine sauerkraut, onions, parsley and caraway seeds in a bowl; mix well. Layer mixture in the bottom of a 9 x 13 inch pan.
Next layer is the corned beef.
Sprinkle 1 cup shredded cheese on top of mixture. On top of cheese spread 1/4 cup 1000 Island dressing.
Toss together rye bread and butter and sprinkle over dressing. Top entire casserole with 1 cup shredded cheese.
Bake 375 degrees for 35 minutes.