Parsley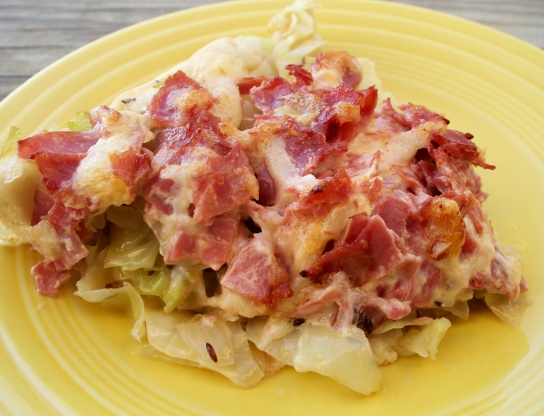 I have not tried this, but the picture I have looks delicious. I have posted it because I think you can tell by the list of ingredients if it will appeal to you! Hope you enjoy!

Oh wow SO GOOD! My husband and I ate Way too much of this and our 18 month old LOVED it! I doubled the recipe and cooked it in a 9x13 pan (and am glad I did because we ate more than 1/2 the pan!). I think next time I'll double it again and use even more cabbage (5 cups ) because it's low-calorie and so good for you. Thanks for the awesome recipe that I'll be making many more times!

ETA: I used the regular biscuits this time and they don't work as well as the mega or big or whatever kind. I think 16oz of the jumbo ones work better. Also, be sure to spray your pyrex with non-stick spray so the biscuits don't stick (oops).
Preheat oven to 375 degrees.
In a medium skillet, melt butter and stir in cabbage, onion and caraway seeds.
Cover and cook for 8-10 minutes over medium heat, until crispy tender, stirring occasionally.
In a small bowl, combine corned beef, cheese and dressing, mixing well.
Separate dough into 5 biscuits.
Place in an ungreased 8 inch round pan.
Press over bottom and 1/2 inch up sides to form crust.
Spoon hot cabbage mixture over biscuits.
Top this with the corned beef mixture.
Bake for 18-25 minutes or until a deep golden brown.
Cut into 6 wedges.