Retro One Pot Macaroni Supper
Boomette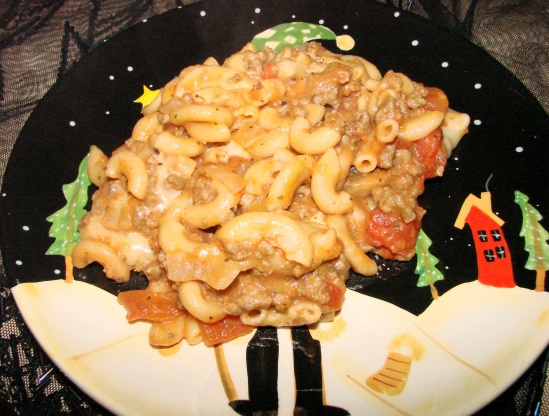 This recipe is from Catelli Smart. They make high fibre white pasta (more than whole wheat) and it's awesome! No, I don't work for them, we just really like it! Enjoy!

Sometimes I just need to give DH good old time comfort food and this was just the thing. I made a half recipe and he finished off half of that and there is a lunch size serving in the fridge for whoever gets to it first. I'm 3 days away from my monthly shopping so I used the canned mushrooms. I even used the whole wheat pasta here with not a complaint from DH (very cool). Loved the one pot clean up to. In short this is easy, yummy and will please the whole family. Served with a salad, canned peaches and ice cream for dessert.
Heat the oil in a large pot or Dutch oven set over medium heat. Add the beef; cook for 5 minutes or until browned.
Stir in the oregano, basil, salt, onion and mushrooms (if using). Cook, stirring occasionally for 5 minutes or until onion and mushrooms are tender.
Stir in the dry macaroni, diced tomatoes, tomato sauce and milk. Bring to a boil. Reduce the heat to medium low and cover. Cook, stirring occasionally, for 10 to 15 minutes or until the pasta is tender.
Stir in the cheese until just melted. Serve immediately.