Restaurant Style Mexican Rice
twissis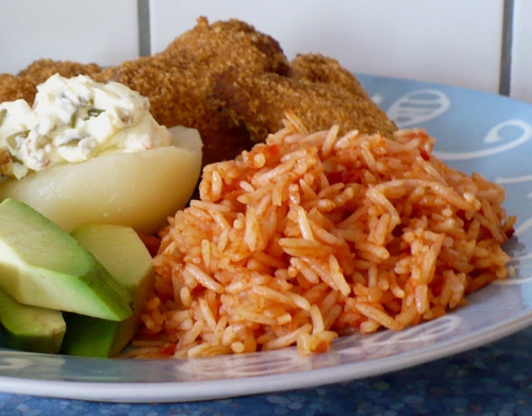 I have tried many recipes trying to duplicate the dry Mexican rice you get at the restaurant. After a lot of tweaking this hits the mark. My hubby loved it and said this is the real deal. Hope you enjoy it!
Top Review by CJAY
Wow! This brought back memories of the rice I used to make when I was the cook in a small family owned mexican restaurant. I didn't use the jalapeno(family preference) and added 1 tsp. cumin. I didn't puree the salsa (we like the chunks) but did everything else as directed. I served this with tacos and refried beans. We totally loved the rice. Thanks so much for posting this great recipe. This is going into my tried and true file and I'll be making this often.
Heat olive oil in a sauce pan. Add rice and fry for about five minutes. Stir occasionally so it doesn't stick. Add onion, garlic, and jalapeno and cook until onion is tender.
Add chicken broth and salsa. Bring to a boil. Once it boils, turn heat down to low and cook for 20 minutes. Do not lift lid while cooking!
When done cooking, remove from heat and fluff with fork. Enjoy!