Restaurant Style Mexican Rice
teresas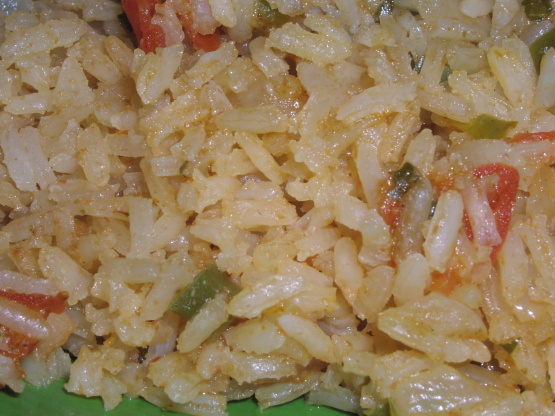 I love the Mexican rice I get in restaurants but could never find a recipe that came close to it ... until now!

This is a 5 star recipe, but I gave it 4 stars only because after exactly 20 minutes, some of the rice had burned on the bottom of my pan. It might have been my stove's fault, or my fault for not knowing the difference between medium and medium-low heat.
Heat olive oil in a large skillet over medium heat. Add the rice and stir until all the rice is lightly coated with the oil. Watch the rice carefully -- let it brown but do not burn (it should not turn dark brown or black). When the rice is almost all brown, add the garlic and saute for a few minutes.
Add the chicken stock and the remaining ingredients. Stir and cover, then reduce heat to medium-low. Let cook for 20 minutes, then check for doneness. If necessary, let cook for up to another 5 or 10 minutes. IMPORTANT: Do not lift the lid while the rice is cooking!
When the rice is ready it will fluff easily with a fork, and each grain will be split. The rice should by dry, not saucy.